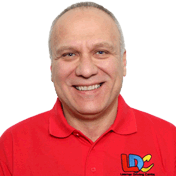 About me
Hi I'm Mark, I have been a fully qualified Government Approved Driving Instructor (ADI) for nearly 10 years. In 2013 I switched from teaching manual to automatic tuition. Teaching in an automatic car is a real joy and I believe it is the way of the future. All the pupils I teach are relaxed and without having to worry about shifting gears in London's busy traffic, learning is stress free and easy.
I am a grade "A" instructor and specialise in teaching nervous pupils. learners who through not fault of their own, have had a bad experience and pupils who just don't enjoy manual lessons. My car is dual controlled so you will always be kept safe from harm. I will take you step by step through the LD system of tuition which ensures nothing in the learning syllabus is missed. Together, we will get you to test standard in no time at all! Did you know LDC was voted Driving Training School of the Year 2016? This is something I am very proud of and delighted to share with you all.
I speak three languages, English, Arabic, and Aramaic and can help you not only with learning to drive but with any theory tuition help you require. In my previous career, believe it or not, I was a Vet specialising in large animal care. Although they may seem miles apart and completely different disciplines they do share some very important qualities. Being a vet has given me the skills and patience to recognise and diagnose problems making it easier for me to recognise and help correct and cure driving faults. As a vet of large animals, I was professionally trained to keep calm and be reassuring, This skill is very useful when helping nervous pupils build their confidence. In addition, both careers have brought me huge job satisfaction and have allowed me the luxury of bringing joy and freedom to others.
I have a wonderful wife and young son. In our free time my wife and I enjoy taking our son to the local park where I pretend to be Renaldo and he pretends to be Lionel Messi and vice versa. We also enjoy traveling together as a family and but when I am on my own, I enjoy a game or two of snooker with my mates.
I hope this gives you a brief idea about me so please click here to "Contact me" for further information or to book lessons. I look forward to having the opportunity to teach you how to drive.