Alex Lambe
Mark is a very understanding guy
Mark is a very understanding guy. I've felt relaxed from the very first moment Mark started teaching me. He is explains things very clearly and is very reassuring if I make a mistake. He takes time to make sure I understand everything. Mark is very patient and I feel like I have got along very well with him. I can feel myself becoming more and more confident the more time goes on and Mark's clear explanation of everything has played a big part in this. As my confidence has started to build I've become more and more relaxed.The environments Mark took me too helped me to gradually build my confidence. I like how Mark focuses on the small details and the basics and not jumping the gun. This has helped and I can start to feel that driving is becoming more natural to me. Mark spends time on each topic and makes sure that I understand each one before moving on, making sure that I ask any questions if I am unsure about anything. He has provided me with all the help and resources to help make learning easier for me. I've really enjoyed learning to drive. Before I started I thought I'd be nervous, but I haven't been. I've become more relaxed by just taking a deep breath e.g. not gripping the steering wheel so tight. My increase is confidence has helped this. Mark's lessons have definitely been fun and friendly. Mark is a great guy and a pleasure to learn with! I would highly recommend Mark to anyone who is wanting to learn to drive.
Dan Mei
Mark is brilliant.
I was nervous when beginning to learn driving. Mark is brilliant, with extreme patience and teaching skills. He explained the maneuvers clearly and encouraged me to keep improving my driving skills.
Franki Pepperrell
I had a fantastic experience learning how to drive with Mark.
I had a fantastic experience learning how to drive with Mark. He was friendly, patient and very thorough. Mark understood all my worries and concerns and guided me through them with ease and care. Mark was always flexible, starting lessons from my office or home and one afternoon lesson we even finished the lesson driving to my gym. 100% recommended - if I was learning to drive again I would choose Mark!
Ewelina Jaroch
I really enjoyed my time learning to drive
I really enjoyed my time learning to drive thank you to Mark who made the whole experience pleasant and comfortable, due to his amazing teaching and listening skills. Mark helped me meet my goals in time and gave clear instructions that helped me to progress quickly and get up running in no time. Lovely company too! I highly recommend Mark to anyone learning to drive!! He will get you in the right direction immediately 😀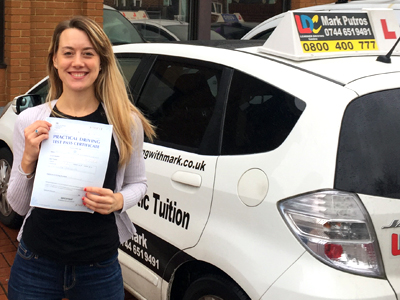 Layla Jalal
Mark is a very friendly and calm Instructor
I was really nervous when I started driving lessons and I had many lessons with other instructors. I was about to give up altogether until I started lessons with Mark. He made me feel relaxed and explained everything very clearly which made all the difference! Mark was friendly and calm and made the lessons fun. He not only taught me how to pass the test but how to drive safely and confidently. I highly recommend Mark to anyone learning to drive. I enjoy driving now and can't thank him enough for his continued support during lessons.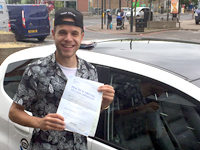 Mikolaj
Passed 1st time
My name is Mikolaj and I passed with my first time. We had about 10 hours together. I have been very happy with the way he teaches. I recommend it for you!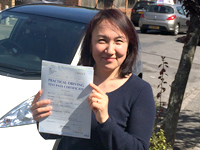 Naz
Passed 1st time
I am going to be completely honest and say that I was very worried about my driving lessons because of unpleasant experience and wasting time with different driving school/instructor. Mark is an absolute professional! He changed my view to driving and lessons was just enjoyable. He was very patient, encouraging and explained everything perfectly well. He was flexible and punctual. Just in a short period of time he taught me all manoeuvres and built up my confidence. He knew when I am ready for my test and told me to book while I was unsure about my ability to pass or not. Yes, he was right again - I passed my test from first attempt! I am truly thankful to Mark! He is a brilliant driving instructor! I would recommend Mark to anyone, especially who is nervous and not confident. Now I am a safe driver! Thank you for a great experience!